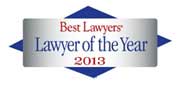 David Hillier, Best Lawyers 2013 Lawyer of the Year Winner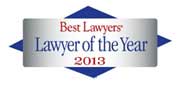 Gum, Hillier & McCroskey, PA, is pleased to announce that David R. Hillier has been named Best Lawyers' 2013 Asheville Bankruptcy and Creditor Debtor Rights / Insolvency and Reorganization Law "Lawyer of the Year." Mr. Hillier has consistently been named in Best Lawyers in America for several years.
in 2009's 15th edition of Best Lawyers® in America, "Lawyers of the Year" were first designated in high-profile legal practice areas. Only a single lawyer in each designated high-profile practice area per metropolitan area is honored as "Lawyer of the Year". As such, this accolade is particularly significant. "Lawyer of the Year" honorees are selected based on particularly impressive voting averages during Best Lawyers' exhaustive annual peer-review assessments. This designation reflects the high level of respect a lawyer has earned from the leading lawyers in the same communities and practice areas for their integrity, professionalism and legal ability.
"We continue to believe — as we have believed for over 30 years — that recognition by one's peers is the most meaningful form of praise in the legal profession. The Editors of Best Lawyers would like to congratulate all of the lawyers who have been selected as "Lawyers of the Year" for 2013", says Best Lawyers:
[quote]Each year, Best Lawyers compiles lists of outstanding attorneys by conducting peer-review surveys among thousands of leading lawyers who confidentially evaluate their professional peers. Best Lawyers publishes an annual referral guide, 'The Best Lawyers in America', includes almost 40,000 attorneys in 80 specialties, covering all 50 states and the District of Columbia. Founded in 1981 and first published in 1983, Best Lawyers is the oldest lawyer-rating publication in the U.S., and the gold standard for accuracy and integrity. The current, 17th edition of The Best Lawyers in America (2011), is based on nearly 3 million detailed evaluations of lawyers by other lawyers.[/quote]
[clear]
David and his partners would like to also congratulate the other lawyers in Asheville's Metropolitan Area named "Lawyer of the Year" in their individual areas of practice. They include: Roy W. Davis (Mediation & Arbitration), Jacqueline Grant (Medical Malpractice Defense), George Hendon (Personal Injury Plaintiff), Craig Justus (Land Use), Bob Long (Medical Malpracitce Plaintiff), John Mason (Trusts & Estates), Isaac Northup (Personal Injury Defense), and Bill Parker (Family Law).
This article is for information purposes only and is not to be considered or substituted as legal advice. The information in this article is based on North Carolina state laws in effect at the time of posting.
Next & Previous Posts ...