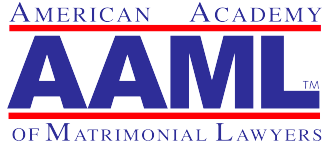 Patrick McCroskey Granted Fellowship into the American Academy of Matrimonial Lawyers
Early in 2009, Patrick McCroskey was inducted as a Fellow in the American Academy of Matrimonial Lawyers (AAML).
To be named a Fellow, a lawyer must be recognized by the bench and bar in his or her jurisdiction as an expert practitioner in matrimonial law. Fellows must be admitted to practice law for 10 years, primarily engage in domestic relations work and have completed 15 hours of continuing legal education in each of previous five years. Fellows are required to pass oral and/or written examination on wide-ranging issues pertaining to matrimonial and family law, be interviewed by a state board of examiners as well as be passed upon by other matrimonial law practitioners in the state. Fellows must aspire to the ethical standards set forth in the "Bounds of Advocacy" as well as state bar rules of professional conduct and must have demonstrated involvement in study or improvement of matrimonial law, such as publishing articles or continuing education presentations.
AAML Fellows across the United States are generally recognized by judges and attorneys as preeminent family law practitioners with a high level of knowledge, skill and integrity. There are less than 1,700 lawyers in the United States that have been granted this prestigious fellowship. Patrick's induction to the AAML is further evidence of Gum, Hillier & McCroskey's commitment to professional excellence in North Carolina.
Howard Gum was inducted into the AAML in 1992.
This article is for information purposes only and is not to be considered or substituted as legal advice. The information in this article is based on North Carolina state laws in effect at the time of posting.
Next & Previous Posts ...