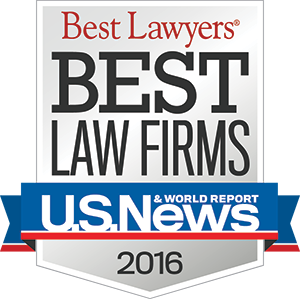 Gum, Hillier & McCroskey, PA ranked in 2016 "Best Law Firms"
[vc_row][vc_column][vc_column_text]
We are pleased to announce the firm has been ranked in the 2016 "Best Law Firms" list by U.S. News & World Report and Best Lawyers® in the following areas:
Metropolitan Awards
Tier 1, Asheville, Bankruptcy and Creditor Debtor Rights / Insolvency and Reorganization Law
Tier 1, Asheville, Family Law
Firms selected to the 2016 "Best Law Firms" list are recognized for professional excellence with persistently impressive ratings from clients and peers. Achieving a ranking signals a unique combination of quality law practice and breadth of legal expertise.
The 2016 Edition of "Best Law Firms" includes rankings in 74 national practice areas and 120 metropolitan-based practice areas.
The U.S. News – Best Lawyers "Best Law Firms" rankings, for the sixth consecutive year, are based on a rigorous evaluation process that includes the collection of client and lawyer evaluations, peer review from leading attorneys in their field, and review of additional information provided by law firms as part of the formal submission process. Clients and peers were asked to evaluate firms based on the following criteria: responsiveness, understanding of a business and its needs, cost-effectiveness, integrity and civility, as well as whether they would refer a matter to the firm and/or consider the firm a worthy competitor. Gum, Hillier & McCroskey, P.A. has been continuously listed in U.S. News – Best Lawyers "Best Law Firms" since its inception in 2010.
Gum, Hillier & McCroskey, P.A. is an Asheville-based family and bankruptcy law firm serving clients in western North Carolina. The firm helps individuals and families create lasting resolutions to conflict and crisis. The partners in the firm are North Carolina Board Certified Legal Specialists in their respective fields of family and bankruptcy law, and are mediators and arbitrators. As legal specialists, the partners welcome referrals of family and bankruptcy law matters and are commonly associated by their peers on complex matters in their individual fields.
[/vc_column_text][/vc_column][/vc_row]
This article is for information purposes only and is not to be considered or substituted as legal advice. The information in this article is based on North Carolina state laws in effect at the time of posting.
Next & Previous Posts ...