Dave Hillier Awarded AV Preeminent Rating by Martindale-Hubbell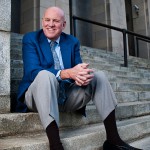 In early March 2011, David Hillier received Martindale-Hubbell's "AV® Preeminent® Peer Review Rated", the highest peer reviewing rating in Martin dale-Hubbell's coffers.
The Martindale-Hubbell Peer Review Ratings help buyers of legal services identify, evaluate and select the most appropriate lawyer for a specific task at hand. Lawyer Ratings serve as an objective indicator that a lawyer has the highest ethical standards and professional ability, and are used by buyers of legal services to justify their hiring decisions.
Ethical Standards Rating
The General Ethical Standards rating denotes adherence to professional standards of conduct and ethics, reliability, diligence and other criteria relevant to the discharge of professional responsibilities.
Those lawyers who meet the "Very High" criteria of General Ethical Standards can proceed to the next step in the ratings process.
Legal Ability Ratings
For lawyers rated with the changed methodology, Legal Ability ratings will now indicate professional ability within a specific area of practice. Legal Ability ratings are based on performance in five key areas, rated on a scale of 1 to 5 (with 1 being the lowest and 5 being the highest). These areas are:
Legal Knowledge – Lawyer's familiarity with the laws governing his/her specific area of practice(s)
Analytical Capabilities – Lawyer's creativity in analyzing legal issues and applying technical knowledge
Judgment – Lawyer's demonstration of the salient factors that drive the outcome of a given case or issue
Communication Ability – Lawyer's capability to communicate persuasively and credibly
Legal Experience – Lawyer's degree of experience in his/her specific area of practice(s)
The Gum, Hillier & McCroskey firm and Howard Gum have long held the coveted AV rating from Martindale-Hubbell. The honor bestowed upon Dave is for personal accomplishments and recognition by other AV rated lawyers in North Carolina.
Find out more about Dave HERE.
This article is for information purposes only and is not to be considered or substituted as legal advice. The information in this article is based on North Carolina state laws in effect at the time of posting.
Next & Previous Posts ...